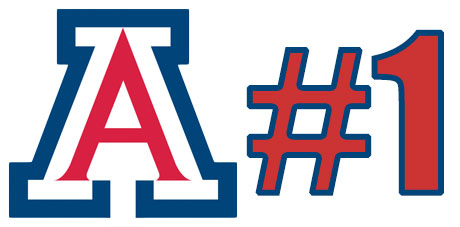 The Arizona Wildcats will soon be the new number one college basketball team in the country if they can beat UNLV this Saturday Dec. 7th.
After a series of events which included Michigan State getting trounced by an unranked North Carolina team and the Texas Tech Red Raiders suffering defeat at the Mckale Center, it is perfectly clear the Wildcats will claim the number one spot this Saturday.
The Arizona Wildcats have proven themselves to be the most dominant team this year by beating every team convincingly including signature wins over San Diego State and Duke. These were not home games either – they played SDSU in one of the most hostile environments (the Show) and beat Duke at MSG – a neutral court.
The Burden of the Number One Spot
Since this is the most sought after position it is also one of the hardest to maintain. Every team you play will be gunning for you. You are now considered the top signature team to beat and every opponent will do what it takes to get a victory.
Will the Wildcats be able to hold this position? They definitely have the talent to beat any team in the country and their defense is the most formidable that has been seen this year.
The weakest point of the Arizona team is their free throws. If they can improve on free throws they will be unstoppable and their winning streak will continue.
UCLA holds the title as the team with longest number one streak at 110 weeks. That is impressive and probably impossible to have a streak like that in this day and age. This is mainly due to top players leaving early for the NBA or other pro teams.
This is definitely an interesting and competitive year for college hoops and it will be fascinating to see how things play out with the rankings. Can UCLA's past streak ever be replicated? We will see…