Turn on any sports news channel and when the college basketball news segment rolls in you will see the usual suspects names talked about ad nauseam. In case you somehow don't know what I'm talking about, here are the top names:
Aaron Gordon – Arizona
Andrew Wiggins – Kansas
Jabari Parker – Duke
Julius Randle – Kentucky
Don't get me wrong – these players are very talented in their own right and have helped their respective teams win games, but is this attention really necessary?
After watching the Arizona vs Duke game I watched the recap on ESPN and the entire segment was about Gordon vs Parker. If you didn't watch the game you would think that Aaron Gordon won the game for Arizona.
What about Nick Johnson? He's the guy who showed the most leadership when he made some key baskets when it really mattered – especially the 3-pointer that drove Arizona to victory.
The Conspiracy (Cue Jesse Ventura)
After doing a little bit of research and looking into why there is so much attention placed on these freshman, I have found out some pretty interesting possibilities as to why this is happening this year.
Television Ratings
That's right tv ratings. College basketball television ratings have been in a free fall in the last few decades and NBA ratings have been climbing higher than ever – especially with players like LeBron James dominating the NBA court.
The theory here is to make a connection between the college level talent as a jumping point to the NBA. Basically focusing in on players who will most likely be successful NBA players. If you promote these players like mad it will create a buzz and get more people to tune in for college hoops.
Here is a ratings chart you can see for yourself from The NCAA Tournament over the years (from tvbythenumbers)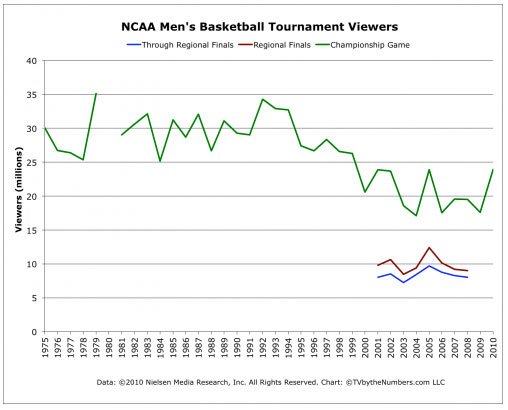 The Backlash
What happens if these players don't live up to their expectations or hype? Is this kind of pressure really fair to put on somebody just starting to play college level basketball?
Kansas just lost to Villanova and already people are criticizing Wiggins for the loss. He's not the only player on the team, but yet he is already facing harsh criticism for his uninspired playing in that game.
I think as this college season progresses we will see a lot more of this type of backlash if one of these "star freshman" players has a bad game. It is just not fair to put this type of pressure on somebody.
Conclusion
Why not just give credit where credit is due and spotlight the players in the game who played well or had a huge impact. If it was one of these freshman that is fine, but to overlook the other players on the team is simply not fair.